Isle Royale is truly spectacular! Friend, well-seasoned backpacker and Grand Canyon guide, Eddie Quinn, and I scouted the island for trips to offer in 2019. Read more for a description of our memorable trip, but first, check out the moose dunking for food. Can you see both moose?
Isle Royale is the largest island in Lake Superior, between Minnesota and Michigan. It is a rugged 45 miles long and 9 miles wide. Logistics and a list of available amenities can be confusing or hard to determine beforehand. All 36 campsites are accessible only by watercraft or on foot. Some also have screened-in shelters, which are a sight for sore eyes when it starts to rain. To get to and from the island, there are ferries and floatplanes from both Michigan and Minnesota.
We had a tremendous bird's-eye view over stunning Lake Superior and lovely Isle Royale from the windows of our tiny amphibious Cessna floatplane out of Minnesota through Isle Royale Seaplanes, flying over retired lighthouses and historic shipwrecks, visible from the air. Once we landed at 9:30 am, we got our permit at the Ranger Station and bought cooking fuel at the Windigo General Store, and immediately started our 5-day traverse of the island, logging 54 stunning miles of wilderness.
Backpackers also need to check in at the Ranger Stations at the start of a trip for permits, to log an itinerary and to cover leave-no-trace basics. Based on Eddie's and my experience, we were encouraged by both our pilot and the ranger to opt for the toughest and more remote trail, the Minong Ridge Trail.
On our first night, after almost 13 miles through flower-filled wetlands and forest, and on sketchy trails over tremendously long beaver dams, the payoff was worth it: We had the entire North Lake Desor campsite (3 tent pads) to ourselves, but only after we saw our first moose (there are 1,500 moose on the Island). As many as 10 Loons called as we arrived, continuing that haunting call throughout the night.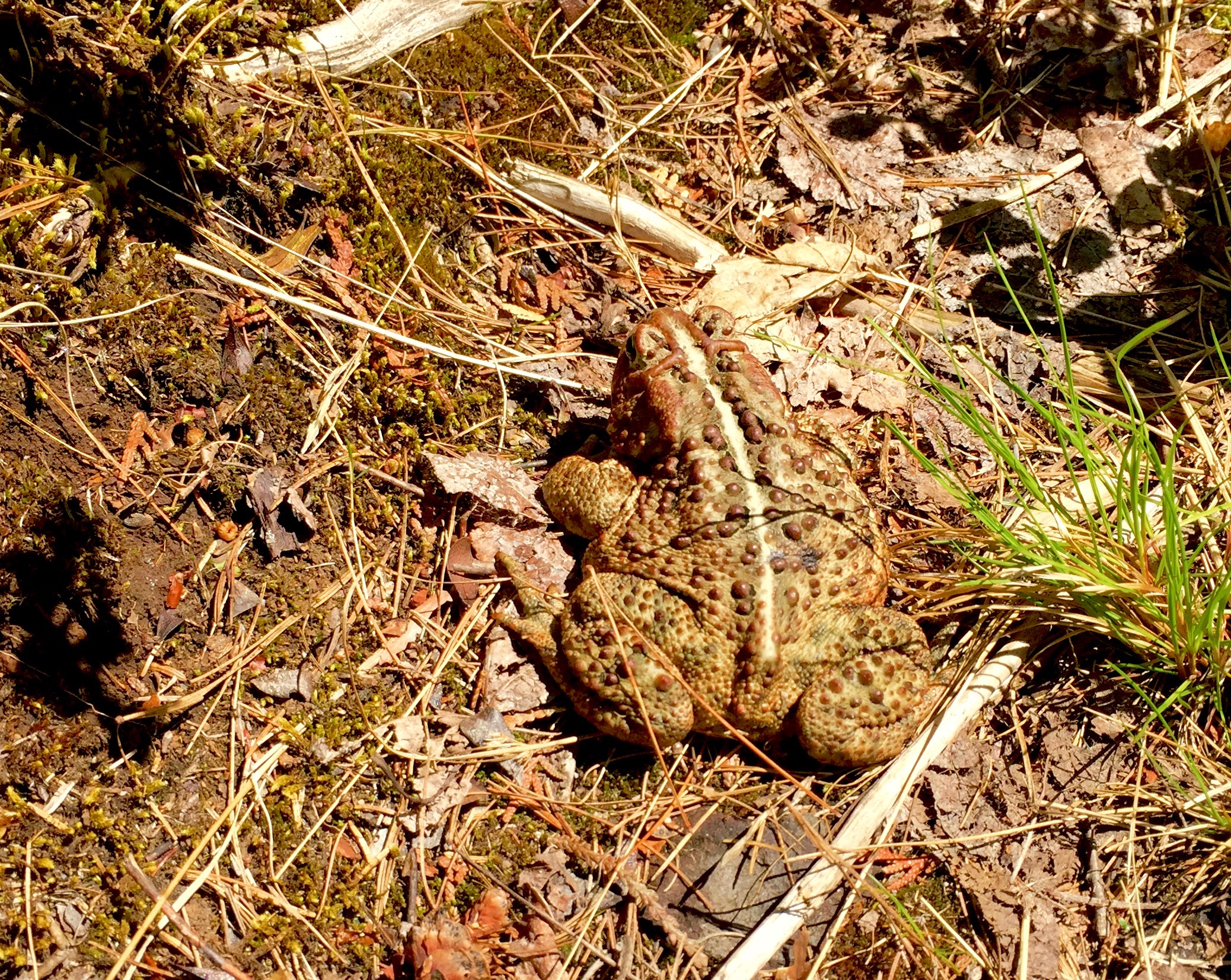 Day 2 of the Minong Ridge, we spent most of the 12.5 miles that day on open ridgeline with absolutely breathtaking views of Canada, especially Pie Island and Sleeping Giant Provincial Park as they majestically rose above the cold blue water of Lake Superior. This overgrown section of trail is known for being difficult to find. Look for the rock cairns on the ridgeline!
We dropped our packs at the spur trail for Little Todd where we ate lunch on the campsite's small Lake Superior beach, eventually returning to our packs and continuing our hike to Todd Harbor where we saw our first shelter, which was already occupied. It was a gorgeous night and we were happy to tent it. The small path from our secluded campsite lead out to the beach where we swam, ate dinner and enjoyed a beautiful sunset. We had the incredible fortune earlier that day to see the rare and lovely Ram's Head Lady's Slipper orchid.
Yes, I said we swam. In Lake Superior and Lake Desor. Each evening as we reached camp, we swam to rinse off the sweat, which always makes for a better night of sleep. The sleeping bag feels better, the merino wool feels better. Not being covered in itchy, dried sweat just feels better. But swimming in Lake Superior is no joke. It is COLD! But so refreshing! And bring a swim suit (I forgot mine).
The next two days were shorter, 8.3 miles to McCargoe Cove and 8.4 to Moskey Basin, where we managed to score shelters with fabulous views. McCargoe Cove was a really social campsite where we met a lot of new friends from around the country with fun stories of their prior annual trips to Isle Royale. The site was also laden with wildlife: One person dubbed it a turtle maternity ward (the Painted Turtles were laying eggs all over the rock shelf jutting into the Cove), and at dusk we saw a moose swim across the Cove and a beaver quietly paddling along. Eddie and I backtracked earlier that afternoon to investigate the Minong Mine and learn more about the island's mining history (highly recommend!).
We had a rainy morning en route to Moskey Basin, and passing along the shores of Chickenbone Lake, we saw two bull moose. The highlight of the trip for me was the completely submerged moose nearest us (see top video above!). His head would surface unfazed, with water running off his giant antlers, while he chewed what he had just pulled up from the bottom, and then he would go back under for more!
Our new friends from McCargoe Cove recommended shelter 8 at Moskey Basin. It was perfect. Being a shorter day, we had time to relax and observe our surroundings. Shelter 8 is at the end of the line of the shelters and overlooks a secluded section of the basin that reminded me of Wild Kingdom, with so much beautiful waterfowl flying in and out of and over that end of the basin, and Sandhill Cranes calling in the distance.
Our last day was another long one, covering 12 miles. We left Moskey and at Daisy Farm, headed up to the fire tower at Mt. Ojibwe, getting caught in some thunder on the Greenstone Ridge to Mt. Franklin. The rain stopped just long enough for us to have lunch and take in the spectacular view.
We opted to approach Rock Harbor via the Tobin Harbor Trail, which is notably easier than walking along the rocky beach of the Rock Harbor Trail. The last half of the day, we were enveloped by bone-chilling, dense fog. We were thrilled when backpackers heading toward us mentioned that we would soon have access to hot showers at Rock Harbor! Given the weather, all of the camping shelters at Rock Harbor were occupied, and rightfully so. We were the only backpackers sleeping in a tent that evening, but our high-quality gear kept us warm and dry.
Rock Harbor has a lot of amenities that, other than at Windigo, do not exist on the rest of the island: Rock Harbor has a gift store, another Ranger Station, a rustic lodge, a cute restaurant and the many docks are filled with myriad watercraft, including the passenger ferries to and from Michigan and Minnesota. Did I already say that it also has hot showers? Both "towns" on the Island have a seaplane landing dock.
We were fogged in the morning of our return flight from Rock Harbor, but Pilot Tomas heroically extricated us later that afternoon. Halfway back to Minnesota, Tomas chose to turn back to Windigo to wait out a storm as it made its way across Grand Marais. So, we took off twice that day!
From start to finish, we met great people on our trip. On our 4-seat, outbound flight, in addition to our remarkable pilot Tomas, we met two teachers from remote Alaska, one of whom had always wanted to experience Isle Royale. He brought his girlfriend for her first backpacking trip ever and she loved it. On our return flight, our co-passengers were a friendly disabled vet and his sweet, furry, charming service dog, Copper, a beautiful, lovable Golden Retriever.
What a place!! **Look for upcoming trips on our site soon**